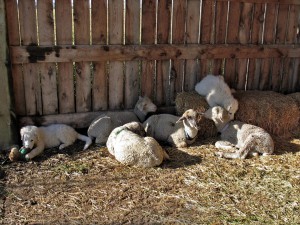 "It is better to light one small candle than to curse the darkness."
Full Time Livestock Guardian, or Family
Companionship:
One Breeder's Point of View
By Valerie Eastman
Like all Livestock Protection Dogs, the Kuvasz is an ancient and purportedly
"original" breed fostered by the Hungarians for thousands of years.
The Kuvasz was and still is used in tandem with the Komondor as a ferocious
flock guard, intolerant of both animal and human predators. But, there was
something different about the Kuvasz. After hundreds of years, a remarkable
event occurred: the Kuvasz came off the plains of Hungary and into the cities
and favor of fifteenth-century nobility. How could something like this happen
to such a fierce, rugged, independent dog?
There are many reasons; reasons which make the Kuvasz a Kuvasz instead of an
Akbash, Maremma, or other livestock guardian. The Kuvasz showed an affinity for
human companionship, forming an unbreakable bond with those it loved, extending to self-sacrifice if necessary. It was beautiful. It was odorless. It was
clean. It thrived on very little food. It needed no particular grooming or
training in protection duties, for it did this naturally. And it was smart,
damn smart, almost uncannily smart. It could guard. It could wash a newborn lamb. It could hunt. It could kill game for dinner. It liked to swim. And it was
very, very fast. It could pull a cart. It could carry a pack. It could baby-sit
the children. It was viciously aggressive. It was heartbreakingly gentle,
sensitive, affectionate, and devoted. But best of all, the Kuvasz could do it
all: in one moment, it played quietly with the children in the house; in the
next, it tore outside to chase away a stray dog near the sheep. Its only
specialty was a determination that nothing should disturb the peace and well
being of its family, its animals, or its property. It gloried in its foremost
quality: versatility.
All of us who love our flockguards know that good and bad breeders exist in
our dogs; but let's focus on the good ones; working against the odds to
preserve the true, correct Hungarian type Kuvasz. Let's respect these people,
and work to learn more about how they place their puppies.
I am proud to say that I breed to preserve the true Kuvasz. And yes, I am
one of the many Kuvasz breeders who have reservations about placing puppies as
full-time flockguards which never are invited to share their owners' indoor
family life. Many Kuvaszok can be happy as full-time flockguards, and some will
choose to do this if they are given a choice, but the heritage of this breed
includes the human bond. I like to give my Kuvaszok the opportunity to
experience their heritage.
Why? First of all, livestock protection dog fanciers should understand that
the Kuvasz came out of World War II with about twelve individuals left. Let's
put breed legends and happy stories aside and look at the complete devastation
of the Kuvasz during the war. Rent yourself a copy of Brady's Escape and watch
the vignette about the Kuvasz. You will see these loyal, protective, beloved
dogs shot by German soldiers. Unfortunately, this is no legend, but hard fact.
If the Kuvasz wasn't shot so that soldiers could pass, it starved due to food
shortages. So today, you see the legacy of twelve survivors when you see a
Kuvasz. We, as good Kuvasz breeders, are the caretakers of these survivors. We
strive to carry on with acknowledgment to and respect for the Hungarians who
sacrificed and suffered so much in a postwar regime to salvage the unique and
ancient Kuvasz. We are still dealing with the genetic aftermath of this
holocaust, which virtually exterminated the Kuvasz in Hungary. There was no
question of picking and choosing in a breeding program using twelve dogs. So we
still deal with the problems and work to eliminate them. And we cherish every
puppy. We cherish these puppies and their heritage so much that we are
reluctant to place puppies in an environment, which diminishes the human bond
in favor of a life, spent solely with livestock. We don't coddle our dogs, but
we do acknowledge their history. Personally, I advise people who want a
full-time livestock dog to contact the Maremma breeders, because these breeders
want their dogs to fulfill their purpose in that way, and more power to them!
The Kuvasz is no less effective as a livestock guardian dog if it protects
and loves its human family as well. Many Kuvaszok do work full-time with a
flock, but these dogs are no more useful or correct than a Kuvasz who protects
in other situations. So many people today live in fear for their possessions
and family, and for the people who own one, the ancient Kuvasz is a godsend.
Yes, the Kuvasz is a supreme flockguard, but it is also an unparalleled family
protector and companion. The instinct is there and thriving: the purpose for
which it is used is purely discretionary and always valuable.
(Reprinted from The Candle Volume 22, The International Forum for Kuvasz Fanciers of America, with the author's permission)
Excerpted from Volume 21, January, 1996 of THE CANDLE
with permission of Valerie Eastman, editor.
By —Valerie Eastman
WHAT IS IT ABOUT THESE KUVASZ DOGS THAT INTRIGUES US SO?
Why do we admire, forgive, and even love these dogs more than we tolerate most people? Could it be that we sometimes see ourselves, or the selves we wish we could be, in our dogs?
We're an independent, stubborn, opinionated, and even
dangerous bunch, we Kuvasz fanciers. Arrogant, perhaps, in our devotion to a dog unlike any other dog, a dog with no other canine ancestor, a dog with a fierce and royal heritage. Yearning, perhaps, while sharing our ordinary lives with a beautiful, shining white dog, the white of arcane and sacred ritual, the symbolic white of purification and transformation, the white of brilliant stars in an infinity which terrifies and beckons us in turn.
We keep these primitive Kuvasz dogs because we like what
they are. We are so often guilty of delighting in their indiscretions. Why is easy: oh how we wish we could do just what we really want to do, just as our Kuvasz do. How we envy their honesty! How we marvel at their courage! How we crave their freedom! They inspire us. They frighten us. They teach us. They break our hearts. We see fire, flood, dust, death, and dance within their silent eyes. Children of millennium, they will be here, long after we are gone.
From Barbara Worthington, her beautiful Kuvasz
poem, Adam, copyright 1993, is reprinted with the kind permission of the Kuvasz club of Canada Newsletter:
Sweet Companion,
Trusted friend;
Satisfied.
You come and lean
against me,
wanting the closeness.
Together we sniff
the moist air,
eyes searching
chiaroscuro shadows,
and listening,
become one with the night.
Later,
as you drowse by my chair,
feet twitching
and making little groanings
in your sleep
I wonder,
if in your dreamscape
you are fighting
the wolves
to protect your
flock
or running with them.
 ♥